Aug 8, 2023 02:09 PM Central
Charity L Ingleright

Quench Cleanse:
Cleanse away impurities while moisturizing skin with this gentle cream cleanser. This creamy formula is perfect for normal, dry or sensitive skin types and helps produce a radiant complexion with a healthy-looking glow.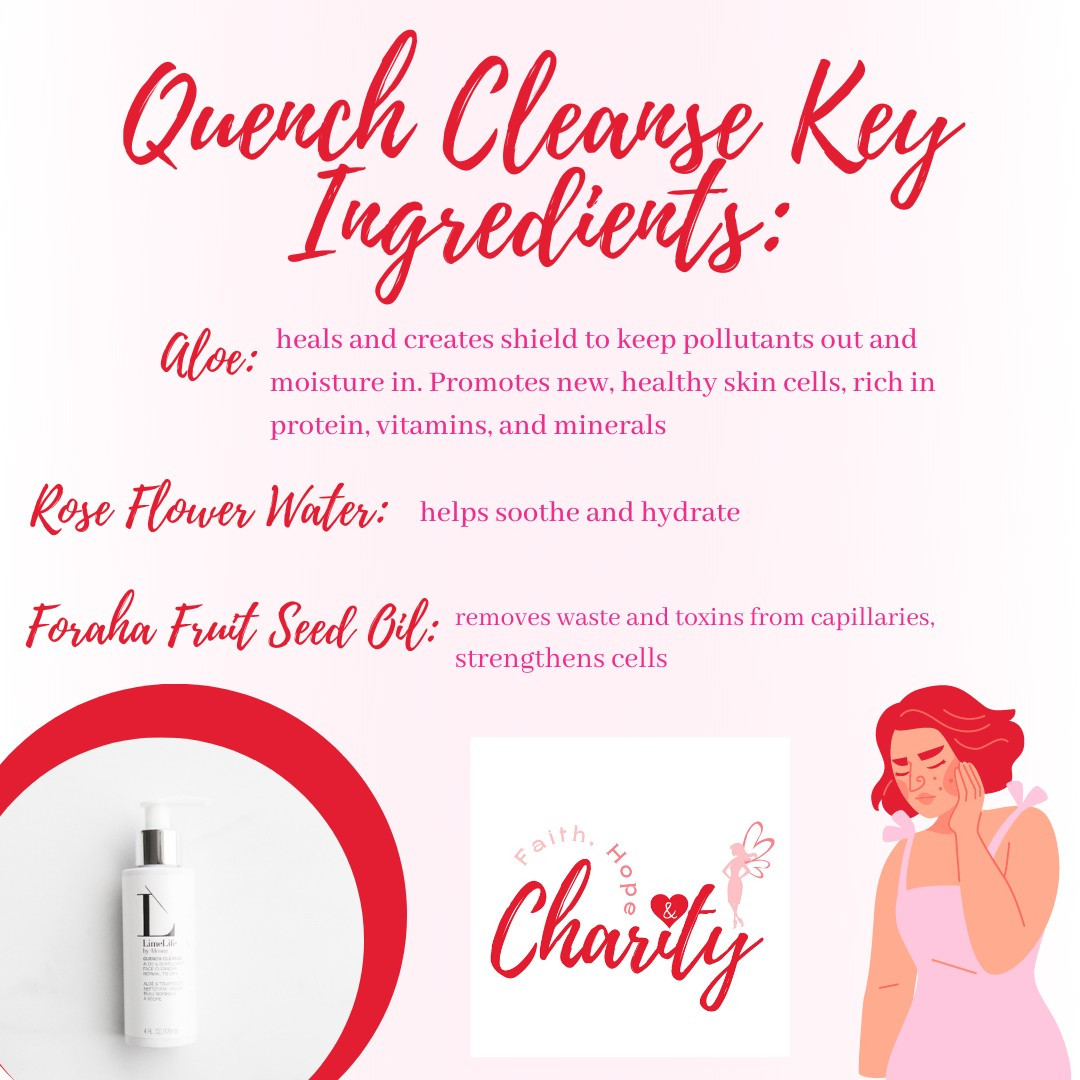 Aloe Vera - helps heal the skin, creates a "shield" to keep pollutants out and moisture in, and promotes the redevelopment of new, healthy skin cells.

Rose Flower Water - the rose water comes from roses harvested in Bulgaria's famous Valley of Roses and helps in soothing and hydrating the skin.
Foraha Fruit Seed Oil - this oil from Madagascar is proven to aid in the elimination of waste material and toxins from capillaries, helping support cell immunity and strengthen skin cell tissue.

Ingredients above are Certified Organic
89.15% of the total ingredients are from Organic Farming
Those with dry skin should use Quench Cleanse in the morning and again in the evening. For combination or sun-damaged skin, use Quench Cleanse in the morning and Dream Clean in the evening. It can also be recommended for temporary use for those with oily skin who may be experiencing an increase in oil production due to a previously used, over-stripping cleansing routine or acne treatment. Once the skin is rebalanced, Dream Clean can replace the PM use of Quench Cleanse, if needed.
Massage into the skin using circular, upward strokes. Remove with several splashes of warm water followed by a cool water splash.
If you are interested in learning more about this, and finding the right moisturizer to use after, you can take my skin care quiz below, so we can find the perfect formula to address your needs.
If you would like to learn more about taking care of your skin, you can follow my Facebook Beauty page here:
I have created a Fountain of Youth Skin Care Course that addresses 40 different topics on taking care of your skin. You can find it here: