Mar 1, 2022 01:38 AM Central
Charity L Ingleright
I often get asked what vitamins I take and where I get them. I know the quality of your vitamins and supplements is very important. You don't want to waste money on vitamins that don't work.
I have used a company called Nature's Sunshine for 16 years! I have been extremely happy with them and know they work quickly and effectively. My whole family has taken Nature's Sunshine and we all have seen results. They are certified organic and of high quality.
The best supplements for you will depend on factors like your gender, age, medical history, genetics, level of physical activity, and diet. Even the best supplements shouldn't take the place of eating a variety of nutrient-dense foods. While supplements like vitamins, minerals, antioxidants can help to support specific functions, the real goal of using supplements should be to enhance an already-balanced diet.
It's Wintertime in Michigan, where we don't get a lot of sunshine. Here are the vitamins I'm taking in this season of my life: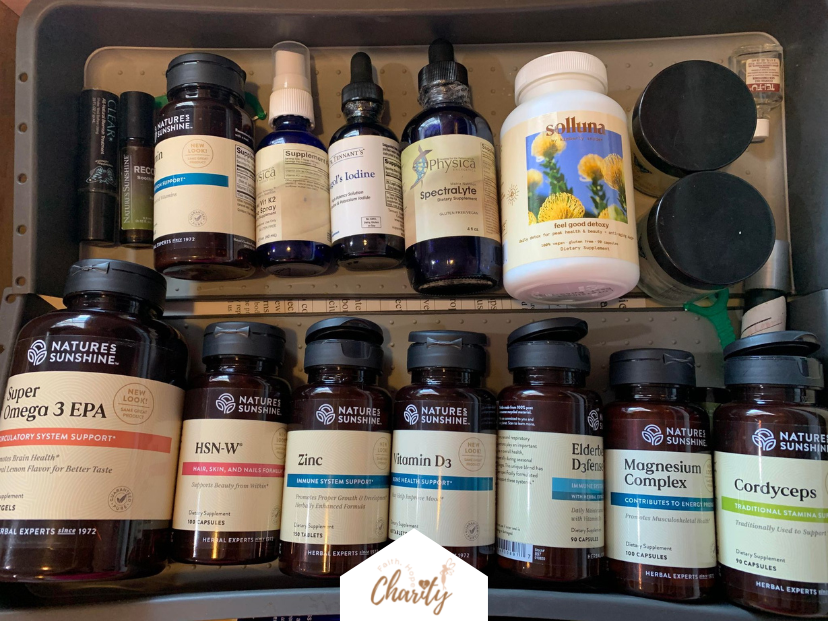 Super Omega 3 EPA:
A fish vitamin that doesn't have the fish taste!
Promotes brain health
Encourages healthy circulatory function
HSN-W:
If you want healthier hair, stronger nails, and more supple skin, feed them! HSN-W provides a unique blend of herbs traditionally used to support the health of hair, skin, and nails. These botanicals, including wild-crafted horsetail, stems from Bulgaria, also offer great antioxidant benefits.
Zinc:
I remember the saying "if you lack zinc, you stink!" This is so true for me.
From antimony to zinc, your body needs minerals. Zinc is key to hundreds of important functions, including sugar and protein metabolism, DNA formation, and energy production. It's also needed for proper growth and development, and it helps strengthen your immune system.
Vitamin D3:
A sunshine vitamin because I live in Michigan in the Winter.
It's hard to get enough of the sunshine vitamin when you don't have lots of sun or time to be outside. Open a bottle of sunshine with Vitamin D3. Improve bone health and boost your immune system and mood all year long.
May help support a healthy mood
May contribute to immune system health
Supports bone health
Calcium Magnesium:
You need good partners in life, like calcium and magnesium.
They work together with you for a healthy body. But you often don't get enough. Fill any dietary gaps for these essential minerals with SynerPro® Calcium-Magnesium, and get a few bonus minerals too! 
Supplies vital nutrients for body function 
Promotes a healthy structural system 
Vitamin A & D:
I had an eye injury and that is why I take this along with Perfect Eyes Supplement.
Supports general health.
Is vital for healthy skin and eyes.
Supports strong bones and teeth.
Elderberry D3fense:
This is my go-to if we start feeling like we may get sick or to stay from getting sick.
Less sun means less vitamin D. And that leads to a weaker immune system. You don't have time for that! Strengthen your immune system with Elderberry D3fense, our exclusive blend of vitamin D and immune-boosting elderberry, echinacea, olive leaf, and royal jelly. Because you deserve the best.
Supports the immune system
Daily maintenance formula
Do you take daily vitamins?
This is truly something I would highly recommend, not just for your own health, but for the health and well-being of your entire family!
I find putting them in a place that reminds you to take them every day very helpful.
Here is the link where I shop and where you can receive 25% OFF if you're a new customer:
For help with your skin and health, please visit my
Facebook Page
, where I have a great community of women learning together.
You can also head over to my
website to take a course on how to care for your skin and learn more about health.
You can find my website link
here
.
Here's to your good health!